So, You're Ready to Be A Blogger?
If you're ready to be a blogger, welcome to the club. It's a large club. More and more people are turning to blogging to make their dreams of financial independence, or at least location independence, a reality. Starting a blog is way easier than making money from a blog, which itself is easier than making a living from a blog. If you came here looking for blogging resources, you should know that you're not the only one.
None of that should discourage you, though. Really. The number one thing you can do to increase your chances of blogging success is to persevere. You see, the large majority of those would-be bloggers won't stick with it. They will play around with blogging for a little while and then give it up. Some will simply become bored. Others will realize it's not a get-rich-quick opportunity. There will even be some who stick with it for a little while, but not long enough to see results. In the end, they will all fall by the wayside, but you'll still be standing. You just need to keep steadily plugging away and persevere.
This page may contain affiliate links, or other advertising, from which we may receive commissions (at no extra cost to you). For further information on our use of affiliate links, data use and related matters, see our Privacy Policy.
Getting Off On the Write Foot
Okay, so you're determined to be one of those would-be bloggers that perseveres to the end. Good for you. But now what? Well, you need to get your blog set up and acquire a few tools to get off "on the write foot". You see, there will be some other blogger wannabes out there who are determined and stubborn, but they won't bother to learn the ropes, or even the basics. You can start out ahead of them, too, if you just follow a few simple steps. You're going to need to come up with a blog niche and to write lots of good content. That's for sure. However, you will also need some tools to set everything in motion.
Blogging Resources for Beginners
Web Host
First of all, you will need a blog. Yes, you need your own piece of online real estate on which to build your new blog. You could use a blogging resource like Blogger.com, or WordPress.com. You could, but don't. Remember when I said there will be some with the determination, but they won't bother to learn the ropes. Those are the people using a free blogging service. You want to start out ahead of them. Get yourself a dedicated blog to start with, which means finding a host.
I use SiteGround to host On the Write Foot. Although I recommended not using the free WordPress.com service, I do heartily recommend using the WordPress blogging software. I used Blogger in years past and even in their respective free versions, WordPress is much better. So, finding a web host that understands and supports WordPress is a big plus. SiteGround actually specializes in managed WordPress hosting, which makes it super easy to get set up. If you sign up through my link, you can get special pricing as low as $3.95 /mo. for their start-up plan. More robust packages cost more, of course.
Useful WordPress Plug-Ins
There are many available plug-ins you can use with WordPress. They all claim to improve your experience and, in fact, many of them do. I have a handful that I use on this blog. Some of them are required for my specific theme (more on themes, later). Others I use, because they are handy tools that improve my blog. The one plug-in I would recommend the most would have to be Yoast. Yoast is a plug-in that helps you with SEO.
SEO, if you don't already know, stands for search engine optimization. If you're going to be a successful blogger, or have any type of successful website, you need to be concerned with SEO. Yoast analyzes each blog page and post and makes for optimization. I would never hit "publish" on a post without running it through the Yoast ringer first. You can get more power from the premium version, but if the free version will greatly improve your blog's SEO.
Finding a Theme for Your Blog
Among the blogging resources you need to get sorted on the front end is the theme. Theme, in this context, isn't referring to your blog's topic, or niche. This type of theme is about the appearance of your blog. Again, this is one of those areas where you can go with basic freebies, but that would not be setting yourself up for success. You really need to spend a little money to get yourself a professional, customizable, aesthetically pleasing theme. There are a few areas that require some small investment, in order to look like a legitimate blog, particularly if you want that blog to be your business. In my opinions, your theme is one of those things. Taking shortcuts will be noticeable.
My recommendation for finding a blog theme is through Envato. Envato actually has a few theme suppliers, such as ThemeForest, which is fairly popular. I got my theme through ThemeSphere, which is another Envato brand. If you choose to buy a theme from any of Envato's brands, I may make an affiliate commission if you visit them through my link. However, they are my genuine recommendation. I wouldn't use them myself if it weren't. If you'd rather look elsewhere, that's fine, too. Either way, do yourself a favor and pay for a theme, instead of going the freebie route. They really aren't that expensive and it will automatically make your blog look more legitimate. These first steps aren't difficult, but choosing the right blogging resources can crucial.
Keyword Research is Key
If you build a great blog and fill it with excellent, riveting content, you will probably want someone to read it. Driving traffic to your blog is imperative if you want to a successful blogger. Obviously, whatever measurements you use to determine success will include people visiting the blog. No visitors, no readers. No visitors, not much income, if that is among your goals. I mentioned SEO earlier and optimizing your blog will help gain organic search traffic to your blog. That being said, you will want to optimize your posts around keywords.
The Art of Keyword Research
There is an art to finding valuable and viable keywords. Instead of just naming your blog post and typing away, you want to make sure you are incorporating keywords that people are actually searching. Not only do you want to make sure people are searching for those keywords, you want to make sure you actually have a chance of ranking high in a Google search for that keyword. All of that involves keyword research. There are many online articles about keyword research. There are also several software tools that help conduct that research
You can get 20% off of a Keysearch subscription with this discount code: KSDISC
One of my favorite blogging resources is called KeySearch. It helps me research keywords to build my blog posts around. There are other programs that do the same thing and, maybe, some of them even do it better. For my purposes, though, KeySearch provides a robust set of features at a reasonable price. If you find a better keyword research program out there, I'm pretty it will cost more. Really, I don't know how much more I need a program to do, anyway. KeySearch provides a lot of information and a handful of different tools in one dashboard. In this post, I mainly just want to introduce KeySearch, but it deserves its own post. One of the cooler things Keysearch provides, which I don't see a lot of people writing about, is a Content Assistant. I would pay the monthly fee for that feature alone.
Check Out the Full Review of Keysearch
Social Media Tools for Bloggers
I know that many bloggers and other "influencers" praise social media as one of the driving forces behind their success. I don't doubt that is true, at least for many. Overall, though, I have mixed feelings about how much effort a blogger should put into social media. Don't get me wrong, I think it's smart to have a social media presence, at least on the major platforms. Depending on your blog's niche, certain social media platforms may be more valuable than others. Where I have my doubts is on how much time to spend on building a social media following, instead of using that time creating blog content.
The Pinterest Difference
My personal opinion is that, especially in the early stages, your time is better spent writing blog content and making sure your blog is built properly. This includes stuff like layout and the all-important SEO that I keep mentioning. Spend a little time on social media, but don't spend a disproportionate amount of time. The relative return on that time investment is too questionable. The likely exception, however, is Pinterest. Although, in reality, Pinterest is more of a visual search engine than a social media platform, it has the potential to drive large amounts of traffic to your blog.
Use my referral link and get a $15 credit when you upgrade to Tailwind Plus.
Even in the case of Pinterest, you still don't want to overdo it on time. To help streamline the process of pinning to boards, you can use a handy scheduling tool called Tailwind. As far as blogging resources go, Tailwind is the only social media related tool that I use. There may be others that are handy, but at this point, Tailwind is the only one I specifically recommend. If I had others to recommend, I'd be using them, as well. Although I only use Tailwind for Pinterest, it is worth noting that they have an Instagram scheduler, also.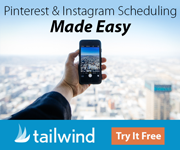 Get Creative with Canva
The last of the blogging resources I'll be sharing here is Canva. Canva is actually an online platform for creating graphics. Like some of the other recommendations on this page, you have a choice between the free and paid version. Not surprisingly, the paid version gets you more features. However, there is plenty that can be accomplished with the free version. I use the free version myself and it has been adequate for my needs, so far.
Canva provides you with templates for creating all sorts of graphics. You can make banners for your blog, graphics that are specifically tailored for different social media platforms, flyers and more. You can either use Canva's stock images, upload your own, or use a combination of both. Although Canva provides a variety of easy to work with templates, there is still a great deal of flexibility, so you can exercise your own creativity. Canva is especially popular for creating Pinterest graphics, which is one of the things I use it for.
Get Some Links
If you are going to be a blogger, you may already know the importance of backlinks to the success of your search engine rankings. There are many ways to go about establishing backlinks, but that is well beyond the scope of this resource page. One thing you can do, rather easily, is to get listed on a reputable directory. Now, in the old days, there were all kinds of spammy sites that hooked you up with links. Some are still around, but you want to steer clear of them. One reputable site that I can suggest, however, is Go Travel Blogs. They actually provide real content, as well as a directory of travel blogs. Once you get yourself set up, you may want to check them out.
More Blogging Resources
There are many more blogging resources available. This list simply provides what I believe to be a solid foundation for a beginning blogger. Plus, these are the things that I use and currently feel are essential for my blogging toolbox. As my own needs, as well as available blog resources, evolve, I will update this list to reflect my latest recommendations. In the meanwhile, if you are launching your own blog, this should give you plenty to get started with.
If you use, or know of, other great blogging resources – especially for beginners – let us know in the comments below.